For full access to the Canadian government and its programs, you'll need a Social Insurance Number. These numbers are nine-digit and unique to each person.
Your SIN is private and it's illegal to share it with anyone.You are responsible for protecting your identification number. Service Canada is responsible for issuing SINs, which comes in a paper format (Confirmation of SIN letter). If you have a plastic SIN card that has not expired, it is still valid.
Who can apply for SIN number?
If you are a Canadian citizen, a permanent resident or a temporary resident, you need a Social Insurance Number (SIN) to work in Canada or to receive benefits and services from government programs.
Children 12 years of age or older may apply for their SIN. Parents, legal guardians or legal representatives can apply for a SIN for children under the age of majority in their province, and for adults in their care.
Apply SIN number:
Keep in mind, there is no fee to apply for a SIN.
Submit a SIN application to:
request a SIN for the first time
obtain a confirmation of your SIN
correct an error on a SIN record
update a legal change of name
update the citizenship status on your SIN record
update your immigration document's expiry date on your SIN record
remove your disc number from your SIN record
Don't forget to include all mandatory documents with your application.
Documents required to apply
All documents must be:
digital copies of original documents
valid (not expired)
clear and legible
in English or French (if your document is in another language, please see translation requirements)
Documents Required
Primary identity document
You must provide 1 of the following documents:
work permit issued by IRCC or CIC
study permit issued by IRCC or CIC which indicates the permit holder "may accept employment" or "may work" in Canada
visitor record issued by IRCC or CIC showing that you are authorized to work in Canada
diplomatic identity card and a work authorization issued by Department of Foreign Affairs, Trade and Development
Additional information for permits
Secondary document
You must provide 1 of the following documents. It must contain the legal name (family name and given name) and the date of birth.
a passport (Canadian or foreign)
a Canadian provincial or territorial ID card or driver's license
any other Canadian government-issued ID
Proof of address
You must provide a document that confirms the address indicated in the online SIN application. A response to your request will be mailed to this address. It must:
be issued by one of the following: a government, a company, an institution, an organisation, a landlord or an employer and be:

a document, or
an attestation letter signed by the issuer

contain the name (surname and given name) that appears on your primary, secondary or supporting document
Apply SIN number Online:
Step 1: Select Options as below: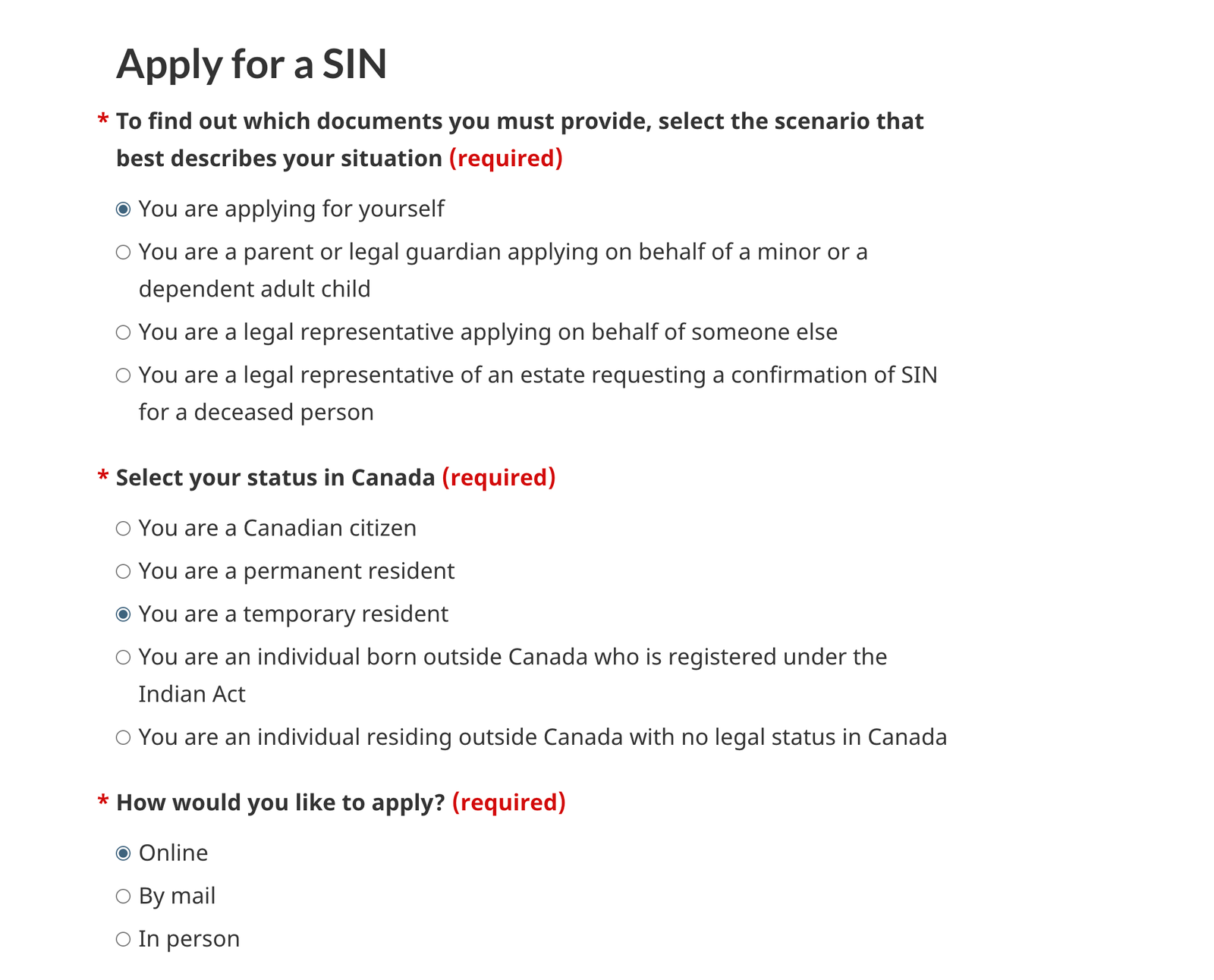 Step 2: Click Apply Online

Step 3: Accept terms and conditions and your status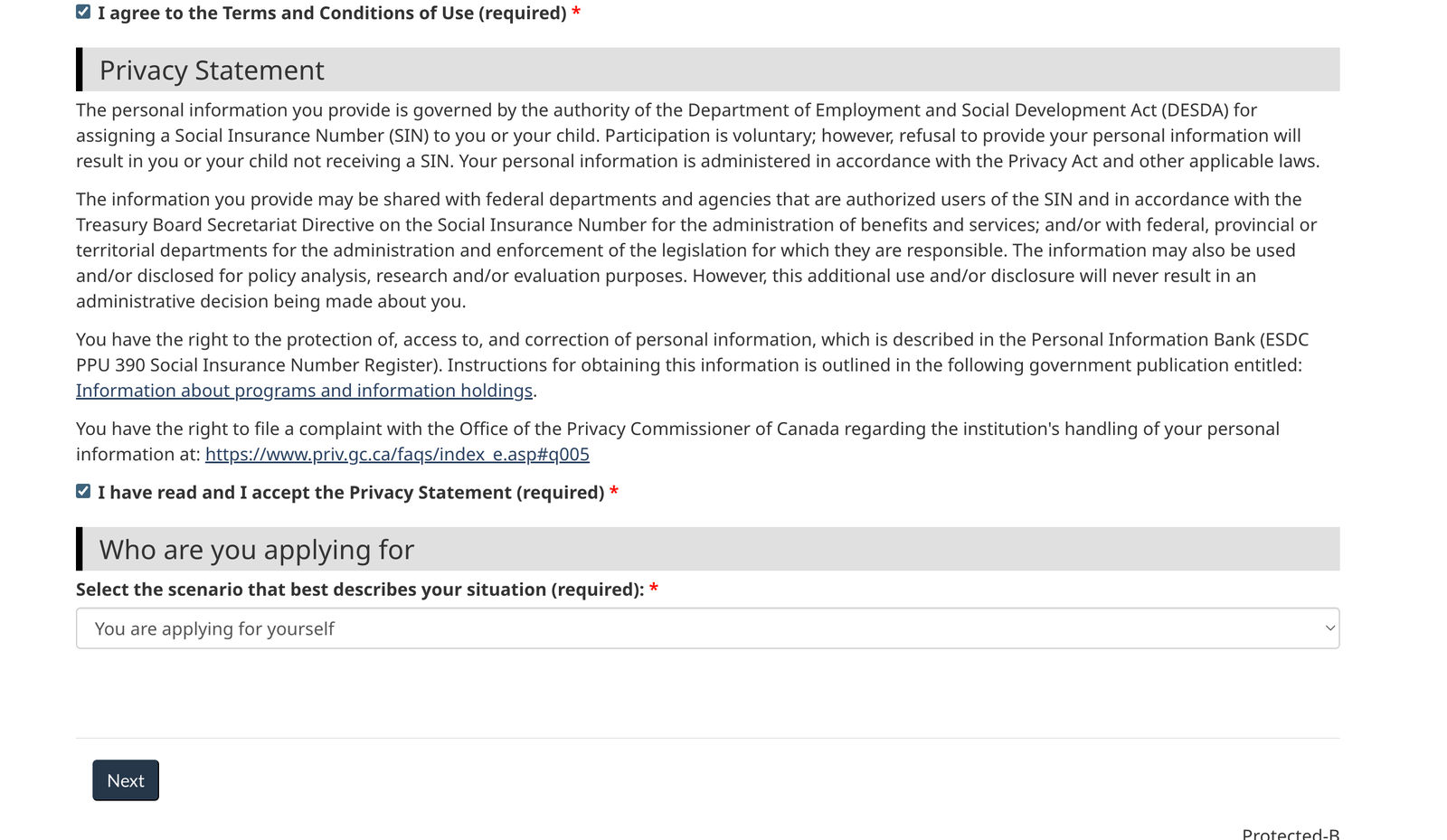 Step 4: Fill your personal information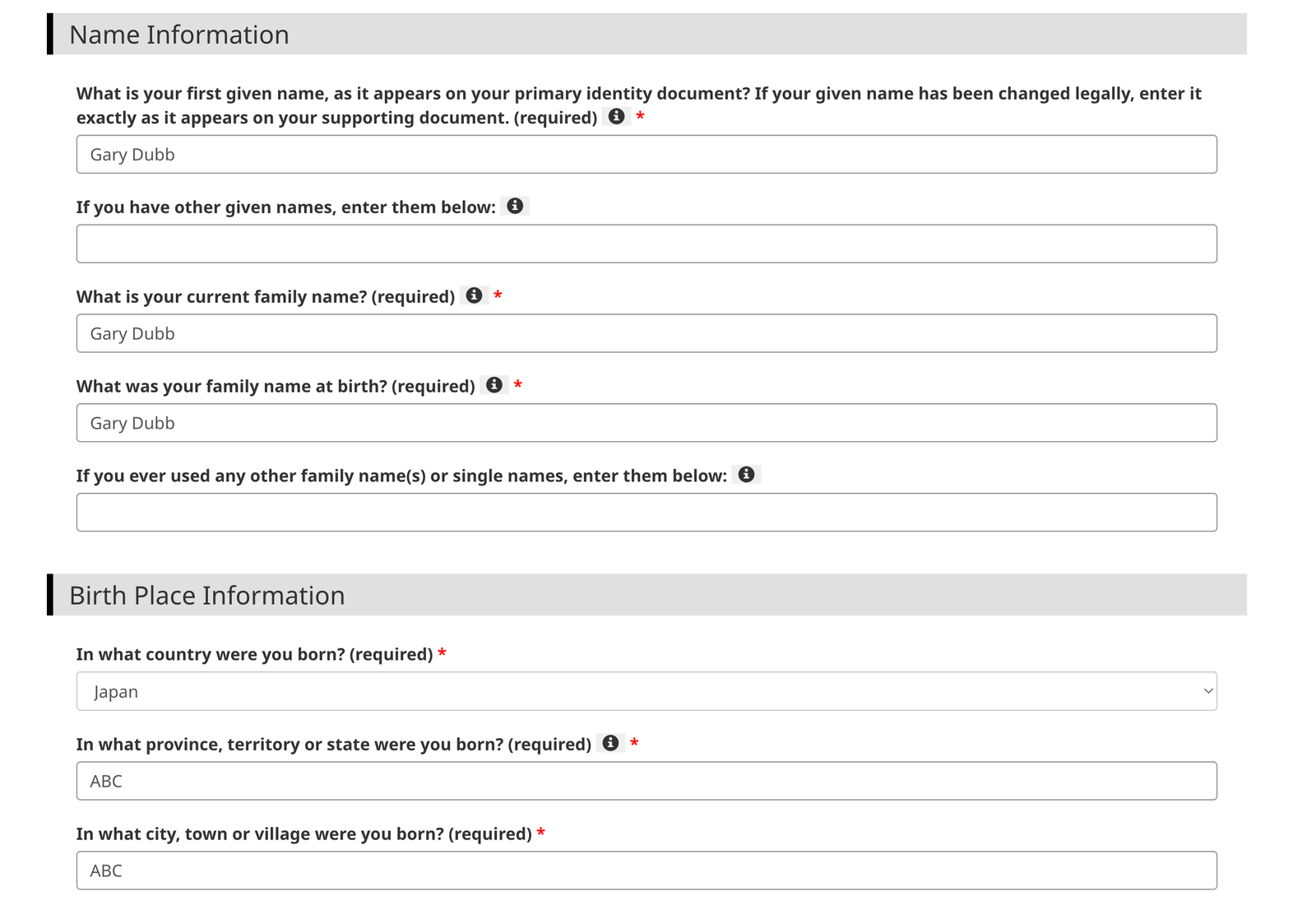 Step 5: Your Birth information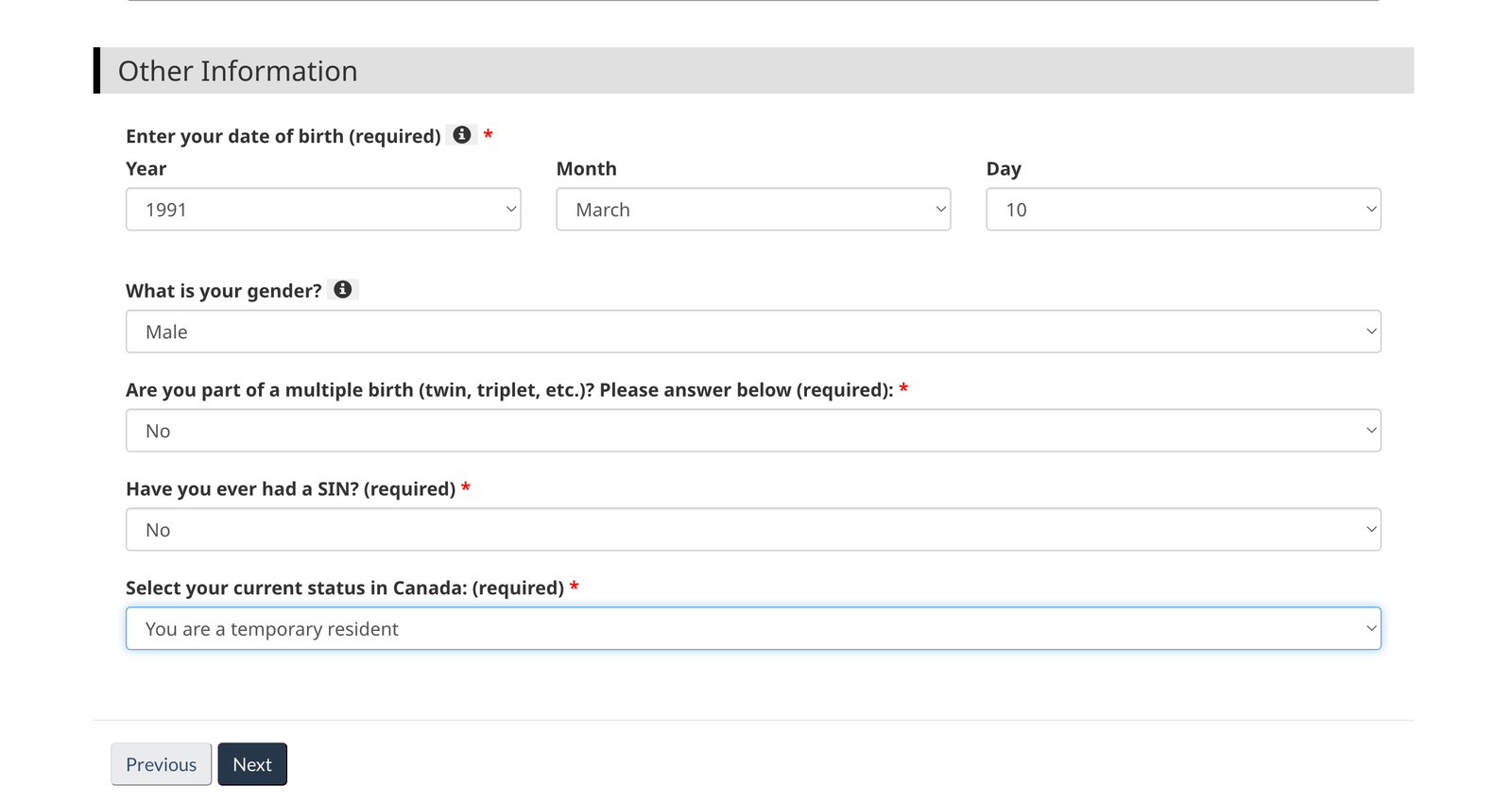 Step 6 : Click next and enter contact and mailing address
Step 7: Upload your supporting documents and check next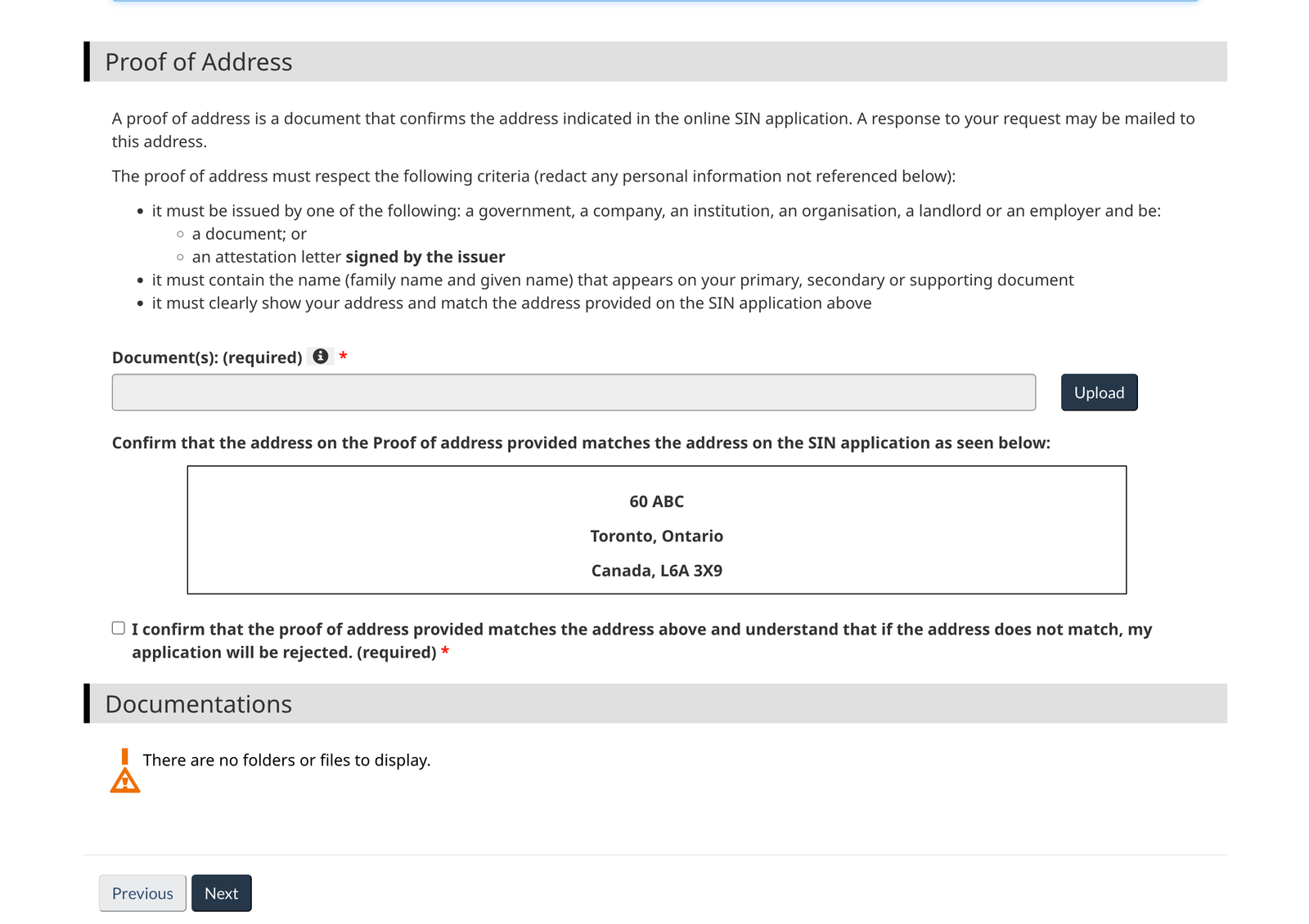 Finally keep the receipt in a safe place and SIN number will be sent you within next 15 days.